Dr. Kathryn Okawa grew up in Seattle , Washington and earned her DVM from Washington State University. She has been an associate, owner, educator and relief veterinarian . Healing Arts began after seeing the benefits of laser therapy in a colleagues pet. After completing training and certification , Kathryn opened the mobile service to make it more convenient and available to those pets who have a hard time getting in and out of the car, who don't do well in a hospital environment or whose owners have a hard time making it into the hospital. In addition to the convenience of a mobile service, Healing Arts can make a difference for pets who aren't responding to other therapies or can't utilize the benefits of medical treatment due to side effects or restrictive underlying conditions.
Interested in learning more about us?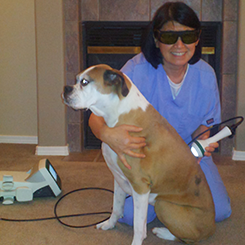 "Ruby" a 9 year old Boxer, had partial paralysis of the hind legs from a protruding disc of the lower spine.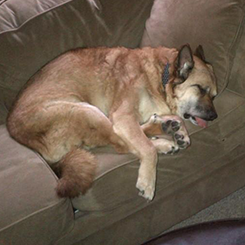 "Coho" is a 10 year old Shepard mix who was treated for generalized osteoarthritis seen here relaxing after a session of laser therapy.